2016 Toyota Prius v vs. 2016 Toyota Prius c
2016 Toyota Prius v
2016 Toyota Prius c
Looking for an eco-friendly family vehicle to drive around the Savannah and Hilton Head Island area? The 2016 Toyota Prius comes in three different models that meet your automotive needs, whether you need a roomy family vehicle or a snappy car for city driving. See all three Prius models today at Savannah Toyota.
Prius
The
2016 Toyota Prius
is the original hybrid car, now in its 15th year of production. You'll love the dramatic new look, with a sleek shape that's been engineered in a wind tunnel to reduce wind resistance for better power and reduce turbulence for better control of the vehicle. The unique style has a low, wide stance for an athletic appearance and a responsive drive. Inside, you'll get comfortable seats with deep side bolsters and lumbar support for unparalleled comfort, as well as advanced sound-deadening techniques to ensure a quiet and serene ride. Finally, the redesigned suspension gives you a smooth ride that's responsive as you need.
Prius C
The
2016 Toyota Prius C
is a subcompact that's made for the city. You'll love the sleek look of the aerodynamic body, as well as the pops of color and unique accessories that come with the special edition Persona series. It's easy to maneuver as well, with a sleek chassis that easily fits into small parking spots. Inside, you'll appreciate the 17 cubic feet of cargo space and the 60/40 split-folding seats to hold your gear.
Prius V
The
2016 Prius V
is the Prius version of the family hatchback, made to be versatile and roomy. You'll get up to 34.3 cubic feet of cargo space, with seats that slide backwards and forward for plenty of room and optimal comfort. The SofTex synthetic leather is eco-friendly over soft, comfortable seats, and the heated front seats add comfort to your drive. It makes up for the cargo you'll be hauling in its roomy back for being especially efficient; when you press on the brake to slow your car, even if you don't stop, the gas engine shuts off so the electric motor can convert your lost momentum into electricity that's stored in the hybrid battery.
Power
The 2016 Toyota Prius features a 1.8L 4-cylinder gasoline engine that uses intelligent variable valve timing and a dual overhead cam shaft in sync with a permanent magnet AC synchronous motor to produce up to 121 hp and 105 lb-ft of torque. It can get up to 58 mpg city, and includes an EV mode for all-electric operation, an Eco mode for balancing power and economy, and a Power mode for more speed and horsepower.
The 2016 Toyota Prius C is powered by a small 1.5L 4-cylinder engine and an electric motor that produces 520V, getting a combined total of 99 hp and 82 lb-ft of torque. It gets up to 53 mpg city.
The 2016 Toyota Prius V uses an engine similar to the base Prius, but its nickel-metal hydride battery produces 650V for a stronger electrical motor operation. This allows it to produce 134 hp and gets up to 44 mpg city. It uses a two-speed continuously variable transmission with overdrive so you can get more power and higher acceleration when you need it most.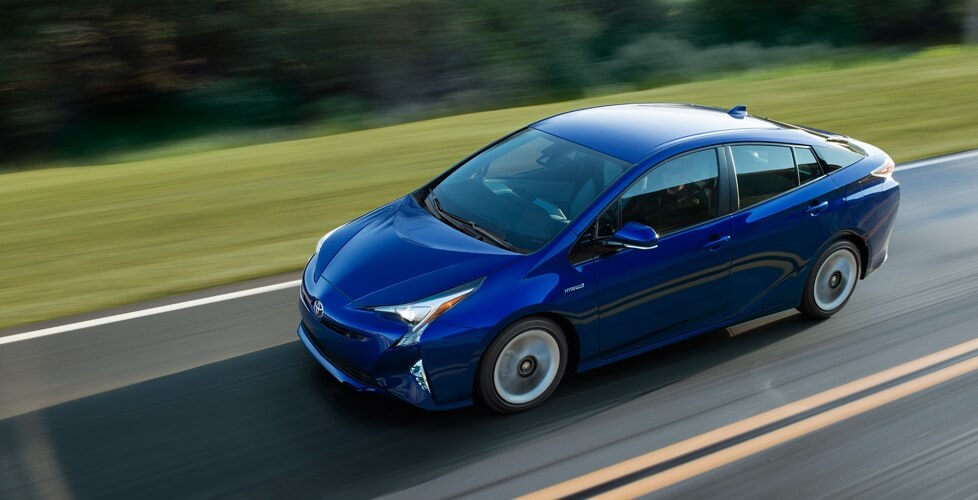 2016 Toyota Prius
Get Your Prius Today
Ready to get your perfect Prius? Savannah Toyota can help! Call us today at (855) 411-6139 or come see us at 11101 Abercorn Street in Savannah, GASavannah to pick out your new Prius model.