Toyota Camry Oil Change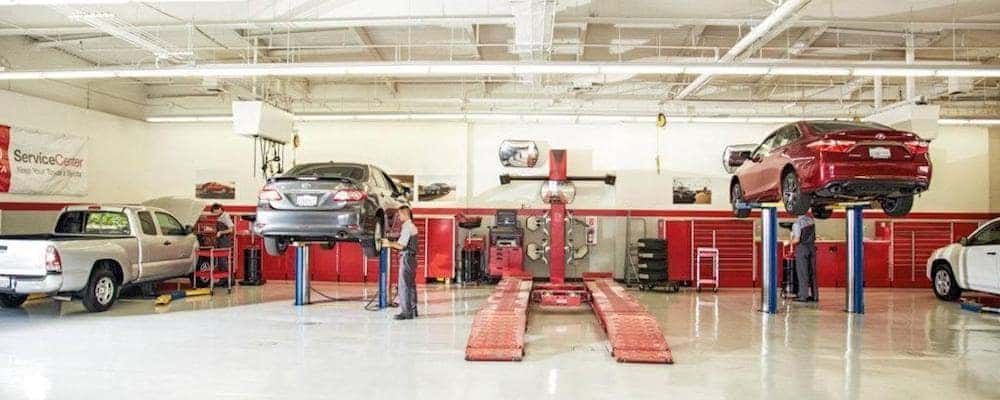 Our service center provides various services that help your Toyota Camry remain in its best condition on any Pooler road. Whether you're bringing your Camry in for a scheduled oil change with oil replacement or just a maintenance check, our trained technicians are standing by to ensure your Camry will drive safely on any commute through town or a trip farther away.
How to Change Oil Toyota Camry
To change the oil in a Toyota Camry, you'll need the following tools:
Four Quarts of New Oil
New Oil Filter
Funnel
Oil Collection Pan
Rags
Then take the following steps to change the oil:
Under the vehicle, locate the drain oil plug just below the engine.
Unscrew the plug and let the old oil drain into the oil collection pan. Once it's finished draining, screw the plug back in.
Consult your owner's manual to find the location of your oil filter. Use the oil filter wrench to remove the old filter and replace it with a genuine Toyota replacement part.
Open the hood and find the engine oil cap. Remove it and use the funnel to add the new oil.
Make sure the drain oil plug is fully tightened. Check for leaks under the vehicle.
Wait a few minutes before starting the vehicle. Once it's warm, turn off the car and check the oil level.
Reset your maintenance light.
If that sounds like a hassle, you can always turn to Savannah Toyota for engine oil replacement.
Why You Should Get Your Oil Changed
Maintaining your vehicle so that it remains in good shape on Bluffton roads and beyond means getting the oil changed. The truth about engine oil is that the pistons in your engine can't work without proper lubrication, and that can cause serious damage. The oil is also needed to absorb the heat from the friction. If you don't get your oil changed regularly, there could be oil buildup that can negatively affect your engine and other components in your vehicle.
Aside from getting your oil changed, you'll want to have it checked when you visit your service center for regular maintenance appointments. At Savannah Toyota, our highly trained technicians use Genuine Toyota Motor Oil allowing your Camry, or other Toyota model, to run more efficiently, causing you fewer issues to be fixed in the long run.
Not only are we located only a short drive away, but we have service specials to help with the cost. Above all things, we can offer quality services other than oil changes, depending on what your vehicle needs. And when you come to us for an oil change, or another service, you'll benefit from:
Quality customer service
Toyota trained technicians
Depending on your service plan, full coverage on an oil change
Competitive pricing
The right oil and filter for your vehicle
Visit the Savannah Toyota Service Center Today!
When you're ready for an oil change, bring your Camry to us at the Savannah Toyota service center. Our technicians are standing by to help you maintain your vehicle and keep it on the Hilton Head roads longer. Contact us with questions in the meantime.
Savannah Toyota Service Specials